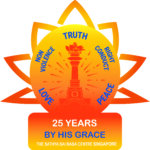 Sai Centre Cleaning – December 2021
Sairam. We will have a Sai Centre Cleaning Seva this coming Saturday (11th December 2021) at the Sathya Sai Baba Centre, 133 Moulmein Road, Singapore 308083. Please join us for this seva if you are available. Only fully vaccinated volunteers may participate in this seva. Each team of 5 or fewer volunteers will work in a different area of the building. Participating volunteers should maintain the safe management measures, including safe entry check-in and wearing face masks at all times. Seva begins at 9 am and finishes by 12 noon.
Kindly RSVP if you are coming by emailing admin@saisociety.org.sg or through WhatsApp, or, through the contact form on this website. This helps us plan the teams and cleaning items.