SSE (Sai Spiritual Education)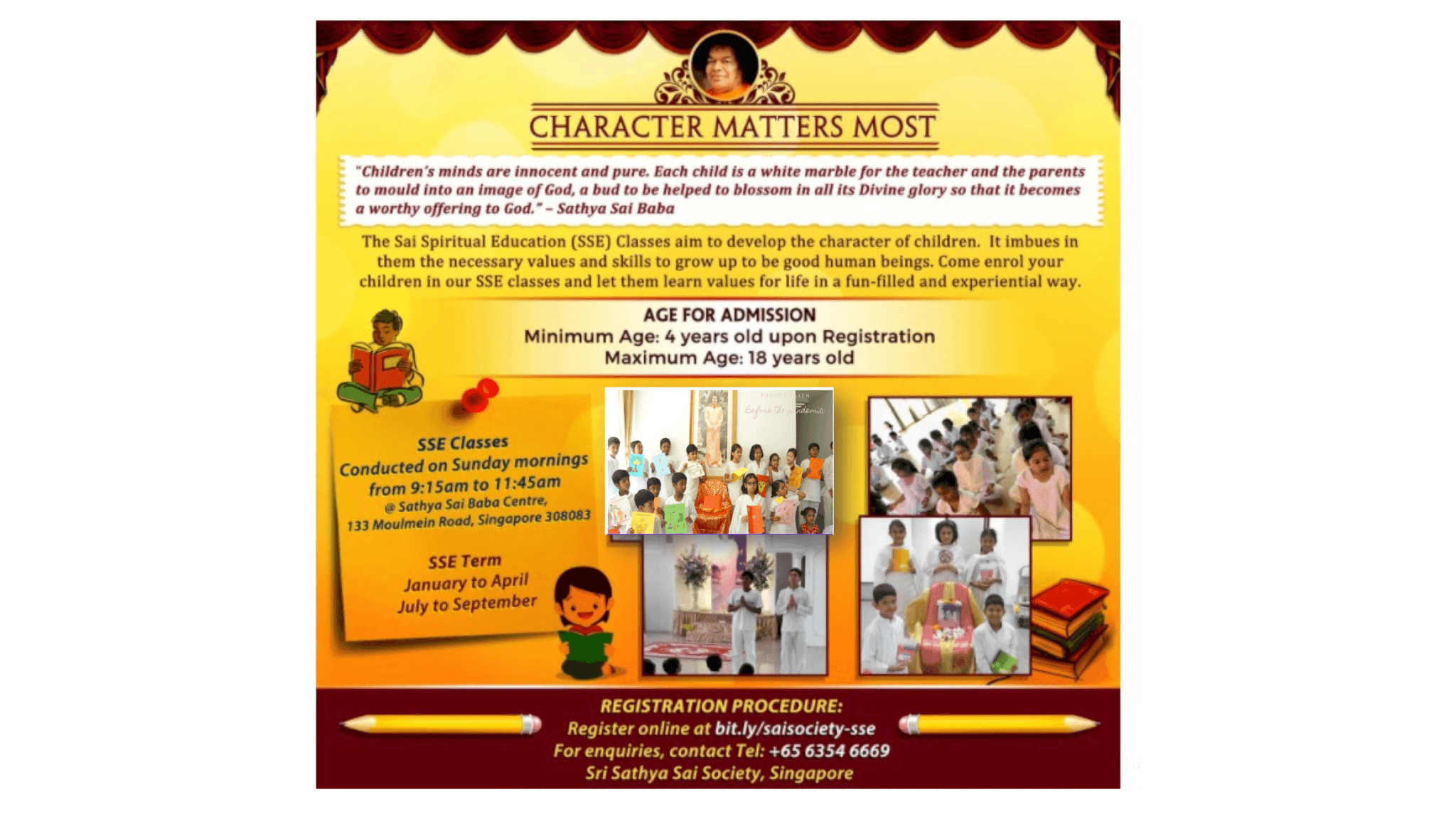 Inspired by the teachings of Sri Sathya Sai Baba, the Bal Vikas programme was established in India in 1969 to teach the country's spiritual heritage to children of devotees. Later to be known as Sai Spiritual Education (SSE) outside India, the programme promoted Unity of Religions, the Fatherhood of God and the Brotherhood of Man, and stories about the life of Sri Sathya Sai Baba. By the 1980s, the SSE programme was also adapted to foster human and spiritual values in children of parents who were not devotees without the focus on a specific spiritual leader.
The Sai Spiritual Education Programme based on the principle of Educare, is aimed at helping children develop human excellence. The aims of SSE are to foster character development and spiritual transformation through helping children to:
(1) Practise placing a ceiling on their desires,
(2) Render selfless service to others,
(3) Appreciate the unity of the different faiths, and
(4) Learn about the life and teachings of Sri Sathya Sai Baba.
The five human values – Sathya (Truth), Dharma (Right Conduct), Shanthi (Peace), Prema (Love) and Ahimsa (Non-violence), are elicited through lessons based on the five teaching techniques: stories, songs, prayers or quotations, silent sitting/tuning-in, and group activities. Stories, songs, and prayers are selected from all countries, cultures, and faiths in order to foster awareness and appreciation of the unifying principles underlying all of the major religions. Stories of exemplars from society are given equal placement with the great prophets, as examples of ordinary human beings who have risen to the status of hero. Such examples inspire and encourage children to believe that they can aspire to similar heights. Through these lessons, the children learn about the importance of respecting their parents, properly discharging their duties at home, being loyal to and taking pride in their country, helping the less fortunate, and showing tolerance and respect for all religions.
The Sai Spiritual Education programme complements and supplements the formal education that children receive from their regular school.
| | |
| --- | --- |
| Modern Education | Sai Spiritual Education |
| Develops Sciences and is limited to books | Develops Senses and is beyond books |
| It questions | It is a quest |
| Mind is shaped by external sources | Mind is shaped by the Inner Source |
| Teaches survival philosophy | Teaches Divine philosophy |
| Is for the Head | Is for the Head, Heart and Hands |
| May result in discontentment & unhappiness | Positively leads to contentment & happiness |
| Produces great people | Produces great & good people |
| Is for a living | Is useful for life |
| Is information-oriented | Is transformation-oriented |
Developments in the social sciences have not been able to significantly curb the expressions of hatred, anger, greed, jealousy and egoistic pride prevalent in society. Media glorification of criminal activity, self-destructive behaviours, domestic and other forms of violence is impacting negatively on the minds and attitudes of the young people all over the world. The SSE programme seeks to counter the effect of these unfortunate trends on the students.
Special Features of SSE Curriculum @ Sri Sathya Sai Society
Enriched syllabus on Life, Teachings and Works of Bhagavan Sri Sathya Sai Baba blended with spiritual knowledge and wisdom from the Holy Scriptures, based on the 5 basic Human Values of Truth, Right Conduct, Peace, Love and Non-violence
Service projects and Field trips
Sai Co-curricular Activities (SCA) – Vedas & Bhajans
Advanced classes for learning of vedas & bhajans
Holiday programmes to hone specific skills
For Parents – Sai Parenting Workshops, Study Circle for Parents, Parent-Teacher meetings
Details of SSE classes @ Sri Sathya Sai Society:
With Swami's grace, SSE Classes will be conducted from 9: 15 am to 11: 30 am at the Sai Centre from 29th January. We are also pleased to announce the resumption of Bhajan and Veda classes within the SSE curriculum.
Term structure:
Term 1: 29th January – 21st May 2023 [TBC] Term 2: 2nd July – 24th Sep 2023
Level Structure:
Tiny Tots (4 – 6 years) – N2, K1, K2
Group 1A (7 – 8 years) – P1, P2
Group 1B (9 -10 years) – P3, P4
Group 2 (11 – 12 years) – P5, P6
Group 3 & 4 (13-18 years)
Registration for SSE
For registration, please complete this Online Form: https://goo.gl/forms/JOGKFu6GNDAkkUVt2.
Recent Posts on SSE
Sai Aradhana 2023

Sai Aradhana 2023

Sai Aradhana is being commemorated this year with a series of events and Seva activities, like every year. Please see the programme highlights in the flyer below.  Highlights are:

'Prema Bandham' – a programme presented by Sai Students . On Sunday, 16th April from 5 pm to 7 pm. Venue: Sathya Sai Baba Centre, 133 Moulmein Road. Everyone is invited to attend the event.

Sri Sathya Sai Vrata Pooja – Worship of Bhagawan. On Saturday, 22nd April from 10 am to 12 noon, followed by lunch. All are invited to participate through prior registration only, and you may register at https://bit.ly/SaiVratam2023. Alternatively, you may use the QR code given below for registration. Seats are limited. Venue: Sathya Sai Baba Centre, 133 Moulmein Road. 

Sai Aradhana Seva – Meals are provided for migrant workers as part of the commemoration.

Sai Aradhana Full-Day Programme. A full-day programme on 24th April (Monday) from 6:30 am to 9:00 pm. Venue: Sathya Sai Baba Centre, 133 Moulmein Road. Breakfast, lunch & dinner are provided. The programme includes Vedic Chanting, Morning & Evening Bhajans, Gayatri Mantra chanting, Multifaith prayer, Bhajans and special programme by SSE students. Bhagawan's room and the special altar are available for darshan (see timings in the flyer below). No registration is needed; just walk-in. Please see the flyer for details.

As you know, Sri Sathya Sai Aradhana Mahotsavam, or Sai Aradhana in short, is commemorated on 24th of April each year. It was on this day in 2011 that thousnds of devotees in Singapore congregated at the Sai Centre at 133 Moulmein Road and spent 3 days in continuous prayers and bhajans. It was the focal point for all Singapore devotees of Bhagawan. Sai Aradhana has been commemorated each year since 2012 at this premises, and all devotees visit Sri Sathya Sai Baba Centre for prayers, bhajans and other activities in gratitude to Bhagawan, and seek His blessings.

If you wish to volunteer to help with Sai Aradhana, please let us know your availability using this form: https://bit.ly/SaiAradhana2023 or via WhatsApp or write to [email protected].

Please do join our mailing list by filling this form: https://bit.ly/Sainews.

Sai Aradhana Flyer

For Sai Vrata Pooja Registration, use this QR code or use the link https://bit.ly/SaiVratam2023. Seats are limited.