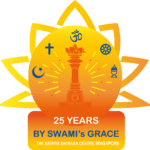 Ganesh Chaturthi Special Bhajans & Silver Jubilee Celebrations
Sairam.
Ganesh Chaturthi this year will be celebrated with veda chanting and evening bhajans (7:00 pm-9:00 pm) at the Sai Centre on 9th September 2021. This year, it is part of the Silver Jubilee Celebrations of the Sai Temple (Sathya Sai Baba Centre).
Let us all join in the bhajans and pray to Bhagawan in the form of Lord Ganesha, that we may soon look forward to normalcy. Seating capacity is limited; hence we have a registration process. As per Government rules, only fully vaccinated devotees can participate in this event on-site. Please use this link to register: Registration Link for Ganesh Chaturthi Bhajans. Registration is now open.
Alternatively, you may also join us online through live streaming at our YouTube channel Sai Society YouTube Channel.
Information if you are attending in person at the Sai Centre
All of us have to comply with several requirements such as being fully vaccinated, using TraceTogether app/token, practising safe distancing, and the use of masks and hand sanitisers. Fully vaccinated means, receiving 2 doses and after 2 weeks after second dose. Our volunteers on duty will help guide you to keep everyone safe.
TraceTogether-only SafeEntry
As per new govt. regulations, checking in using the TraceTogether (TT) mobile app or token will be mandatory. Hence, we strongly recommend that devotees download the TraceTogether app or carry a TraceTogether token before attending.
More info:
TraceTogether mobile app : https://www.tracetogether.gov.sg/
TraceTogether Token: https://token.gowhere.gov.sg
Registration
– In-person attendance for the programme is strictly by prior registration only.
– If you are unable to attend, please cancel your appointment to open up the slot for other devotees.
– Please display your booking confirmation to our volunteers upon arrival
Registrations are now open, and will close on 9th September 2021 or when the limit is reached (whichever is earlier).
Registration link: Registration Link for Ganesh Chaturthi Bhajans.
COVID-19 Safe Management Measures
– Devotees must be fully vaccinated, as shown on their TraceTogether app (2 doses of vaccine + 2 weeks).
– Devotees must wear their masks at all times, refrain from giving chorus for Bhajans and also avoid approaching the altar at any time.
– No food or snack will be served. Please carry your own water bottle.
– Please do not bring any prasadam or flowers to the centre.
– Devotees are requested not to gather/interact with others before/after programme.
Parking
For those who are driving: Please park at Moulmein View HDB car park or on Shrewsbury Road. For safe management, the back gate is closed; you would need to use the side alley next to the Buddhist Temple to arrive at the main gate on Moulmein Road.
Please see the poster on guidelines for your visit (attached).
While we have planned several safety measures for the safety of both devotees and volunteers, and to comply with the Government's regulations, each of us should play our part in protecting everyone. We request the cooperation of everyone to ensure a safe, fulfilling and uplifting experience for all. Please let us know if you have any questions by emailing [email protected]. Thank you and Sai Ram! ????????