Sai Centre Cleaning Seva – February 2022
Sairam. We will have a Sai Centre Cleaning Seva on Saturday (12th February 2022) at the Sathya Sai Baba Centre, 133 Moulmein Road, Singapore 308083. This seva is during the Lunar New Year period.
Please join us for this monthly seva and help us keep the Sai Centre premises clean for everyone's use. Only fully vaccinated volunteers may participate in this seva. Each team of 5 or fewer volunteers will work in a different area of the building. Participating volunteers should maintain the safe management measures, including safe entry check-in and wearing face masks at all times. Seva begins at 9 am and finishes by about 12 noon.
Kindly RSVP if you are coming by emailing admin@saisociety.org.sg or through WhatsApp, or, through the contact form below. This helps us plan the teams and arrange cleaning material.
To enrol into our seva programmes & be on our mailing list, please sign up to SaiNews by filling this online form: https://goo.gl/forms/oEJ9ptEP59hjNgBQ2.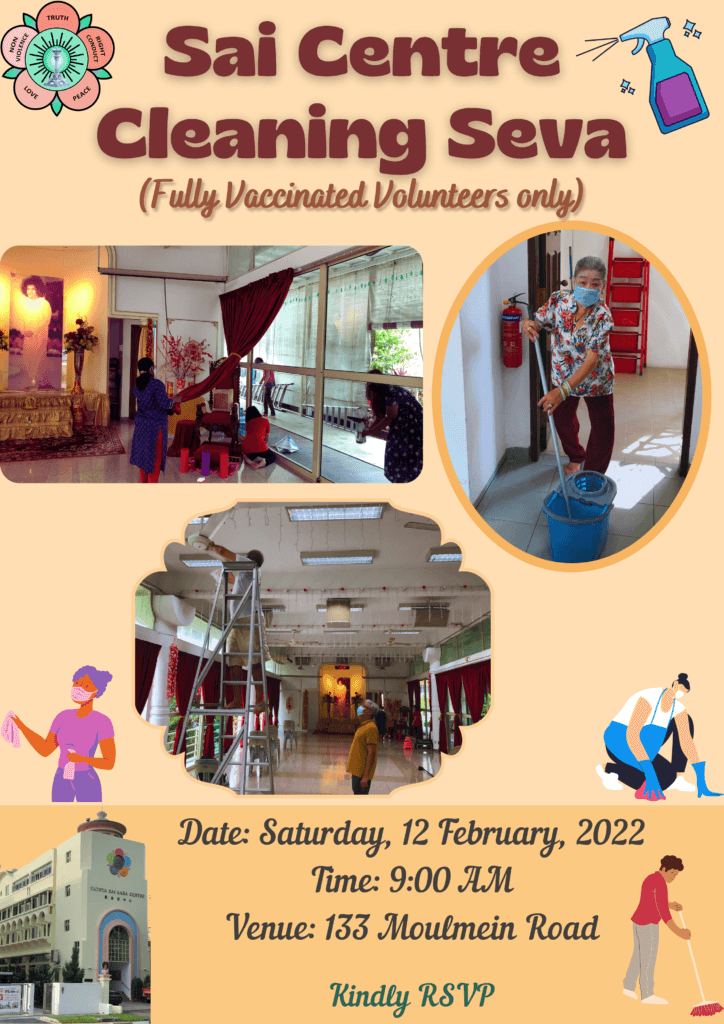 RSVP for Cleaning Seva (February 2022)